Try HideMyAss Pro VPN to surf the internet anonymously. Keep your online identity private and secure with the encrypted HMA! Pro VPN service.
Pros
930+ Servers in 190+ countries with 120000+ IPs
No bandwidth restrictions
Great User Interface
Supports PPTP, L2TP, SSL, Open VPN protocols
Compatible with various devices and operating systems
30-day Money Back Guarantee
Cons
Support only 2 Devices simultaneously
Lazy Chat and Tech Support
No Free Trial Option
HideMyAss
HideMyAss (HMA) is a well-known VPN service provider with a vast client base. When compared to other VPNs, it is among the most pocket-friendly VPNs. It is based in the United Kingdom, and it has been providing services for almost a decade.
Previously, HideMyAss has had somewhat a controversial reputation among privacy backers. This controversy was due to its cooperation with the FBI. It willingly provided access to VPN logs. However, HMA has changed since then, and it has worked a lot to clear its name. It is now a 100% no-logs VPN.
HideMyAss has a vast network of servers of over 1,100 distributed in 190 countries worldwide. This is good news to anybody who wants to access censored or geo-blocked content. Its speeds are incredible and can access famous streaming sites like Netflix and iPlayer. This has made it an ideal alternative for VPN users looking for an all-around VPN that is pocket friendly.

HMA VPN Overview
HMA (HideMyAss) is a virtual private network provider that was founded in 2005 by Jack Cator in the United Kingdom. The 16-year-old Cator at the time got the inspiration to develop HMA VPN to bypass school restrictions so he could stream music and play games.
According to Jack, he developed HMA VPN in a few hours using an open-source code. After he promoted his first VPN on forums and other websites Jack quickly became well known in the cyber industry & even featured on the front page of Digg.
Today HMA VPN provides solid cybersecurity and aids online users to remain anonymous when browsing the internet.  The company has now made some important changes to its services to bring you a premium VPN experience.
History of HideMyAss
HideMyAss is a creation of a 16-year-old Jack Cator. Well, it wasn't his first project as he started his first website at the age of 11 that was about BMX bikes. While his first web project wasn't too technical, he learned how to design and Photoshop eventually by referring to the tutorials online. As he was learning, he was also helping the community by writing tutorials about everything new he learned from the internet.
By this time, his parents didn't support him and just like every parent worried that he was ruining his life and career. However, one afternoon when he was 16, he got the idea for HideMyAss and within a few hours, he launched the VPN service that allowed the user to access the web using other computer's IP. The basic idea behind creating a VPN service was to let students access MySpace or online games at school and block censorship.
And, that's how the world was introduced to HideMyAss. On May 6, 2015, it was announced by Jack Cator that HideMyAss was acquired by AVG Technologies and the company was managed and operated under AVG Technologies until October 2016.
Product Review
Security and Privacy Features
DNS Servers
Most VPN services use private DNS servers so you can hide your IP address and online activity. This decreases the risk of your IP or data being leaked to third party users.
HMA VPN uses a private DNS server called OpenDNS which hides all your browsing information from your internet service provider and third parties.
Encryption Type
Encryption keys are one of the most important features used in VPN software as ensures third-party agencies can't read the data. Typically banks, cryptocurrency sites and government agencies use an encryption code called AES-256 which is the most secure & impenetrable encryption key you can get.
HMA VPN uses the AES-256 encryption key so you're guaranteed safety from hackers as well as agencies trying to impose on your internet privacy.
Kill Switch Feature
A kill switch is built into a VPN software for added precaution in case your VPN stops working or you're experiencing a malware attack. The kill switch automatically shuts down your internet connection when the VPN malfunctions so there's no risk of IP address and data leaks.
The HMA VPN used to have a manual kill switch that you had to activate when connecting to the VPN. HMA VPN's upgrade now has an automatic kill switch that will activate a tunnel. You can also customize the kill switch to work on your entire system or on an app to app basis.
HMA VPN Login Policy
The downside of HMA VPN used to be that they recorded sensitive data such as IP addresses and the quantities of your download & upload data. You'll be happy to know that HMA VPN has made a few upgrades to its login policies.
The HMA VPN no longer records IP addresses which is a relief considering the implications this might have on one's privacy. HMA VPN doesn't record any of your identifiable information so your online data can't ever be shared with third-party organizations.
HMA VPN Authority
The HMA VPN is owned by Privax Limited which is based in the United Kingdom. The UK has the most strict cyber laws as they are part of the Five Eyes Security Alliance which is also part of the US government.
HMA VPN's jurisdiction may make you apprehensive but since the service provider doesn't record your online data none of these organizations can have access to your information. You can utilize the HMA VPN with peace of mind because it will protect your anonymity.
What is HMA VPN's Protocol?
HMA VPN uses OpenVPN which is the most secure protocol in the industry. The VPN program also uses PPTP andL2TP/IPSec protocols.
HMA VPN Features
HMA VPN Speed
The HMA speed is incredibly consistent. When I tested the download and upload speeds I got the following readings:
Download speed of 63.34Mbps
An upload speed of 50.12Mbps
You can test your HMA VPN speed by utilizing the integrated speed test for Windows and Mac. This will assist you in selecting the fastest servers on the software. The speed test feature assists you with finding faster servers for P2P or streaming.
Compatibility
The HMA VPN is compatible with many web browsing devices and software such as:
Windows 7 SPI or later versions
Linux
iOS 9 or later versions
MacOS 10.10 or later versions
Android 5 or later versions
The VPN also works for routers with flash, OpenWrt, DD-Wrt, Tomato and other custom firmware for additional cybersecurity on all your devices.
How Many Devices can HMA VPN connect to?
HMA VPN now allows you to install as many devices as you like on one account. But you can only connect up to five web browsing devices simultaneously. This is ideal because most people have SmartPhones, tablets, laptops and PCs they need to secure with a VPN.
Streaming and Torrent Features
Performing a few tests the HMA VPN works excellently for unblocking geo-restricted streaming sites such as Netflix. As mentioned before the speed test feature allows you to find the best servers to connect to when you want to perform P2P and streaming tasks.
Another benefit to this software is that HMA VPN will automatically provide you with the fastest server near you so you don't have to go looking for one.
You can stream from Spotify, YouTube and Deezer, Netflix and many P2P sites.
Censorship Bypassing
Some countries such as China and Iraq restrict the use of certain websites in their regions. The HMA VPN can unblock sites in other geo-restricted regions such as Turkey but it doesn't allow you to view sites in certain parts of China.
HMA VPN Pros
Lightning-fast connection speeds
Supports unlimited devices on one subscription
Has an integrated kill switch
Doesn't log identifiable information
HMA VPN Cons
Doesn't unblock geo-restrictions in certain parts of China
User Experience
HMA's interface has one of the most user-friendly designs that I've tested.
After a fast and easy installation process, you can connect to HMA's servers with a single click using Lightning Connect. This automatically connects you to the best nearby server.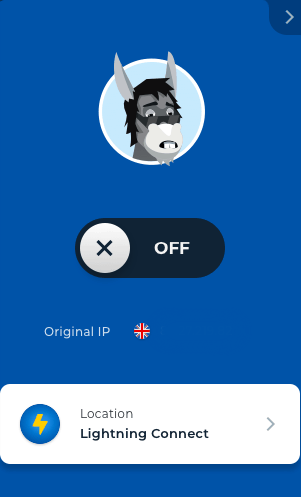 If you want to manually select your server location, you can choose from an easy-to-browse list. Connecting to any server is as simple as clicking on it.
You can also use the drop-down menu to navigate to your saved favorites or view a list of servers optimized for streaming or P2P traffic.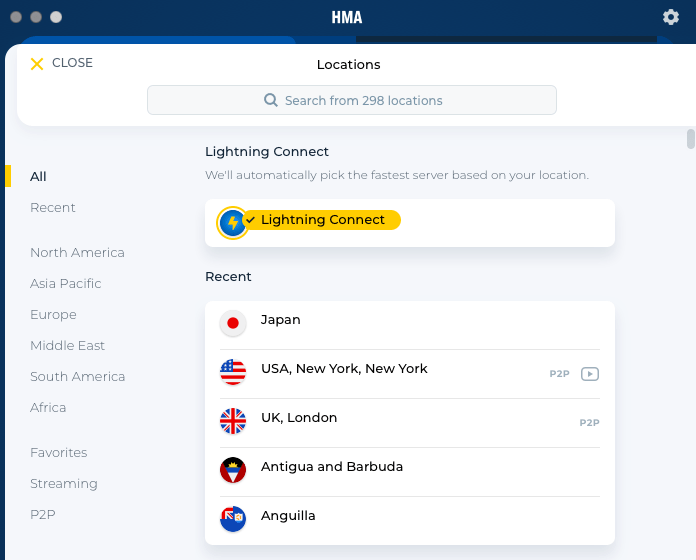 If you do want to manually customize your experience, the settings are straightforward to navigate. Most features can be enabled with a single click.
There is a sidebar where you can toggle the kill switch and auto-connect. Under 'Settings,' you can enable IP Shuffle or choose to automatically connect to the VPN when on an unfamiliar WiFi network.
The automatic kill switch is disabled by default. Make sure to turn it on before connecting to a server if you want to be protected by this feature.

Final Thoughts
In the digital world, it's important to take extra precautions against those who want to invade your online space. HMA VPN gives you the opportunity to browse your favorite sites, stream movies and music while optimizing your online anonymity.
Keep your data safe from hackers and third-party invaders and opt for a paid HMA VPN subscription so you can have a secure & confidential online profile.